30 May 2018
Brussels, 30 May 2018 – Last Sunday, ASF took part in this year's biggest sporting event in the Belgian capital: the 39th Brussels 20 km race. In mixed cloud and sunshine, nearly 40,000 people, including the 24 members of our team, started off from the esplanade in the Parc du Cinquantenaire. The event raised €4,212 for victims of domestic violence and communities struggling for access to land and for the protection of the natural environment in Indonesia.
Running is good, but running for a good cause is even better! The words "human rights are good for your health" were displayed proudly on the participants' T-shirts. It was in support of defending human rights that they rose to this intense sporting challenge. In the weeks leading up to the race, they all mobilised to raise awareness among their friends and family about ASF's activities in Indonesia.
Carlos Mourato, a lawyer specialising in European law, was one of the first to join the team. "As citizens of the world, we should be concerned about people whose rights are under threat far from home," he believes. "The right to physical integrity is a fundamental right. I am happy that my friends and I have been able to contribute to defending victims of domestic violence in Indonesia."
On that Sunday morning at ten o'clock, fifteen men and nine women – some of whom had come from Antwerp, Liège, and even Luxembourg – left the starting line under the ASF banner (see photo). They battled on, over tarmac and through the city parks, for twenty kilometres, some of it pleasant and some of it gruelling. An hour and 22 minutes later, the first runner from our team, Pierre Haenecour, a Belgian, had already crossed the finishing line!
It was midday before larger numbers of runners started to arrive. Hélène Panier, who walked the route for ASF, shared her impressions with us: "It was a pleasure to complete the 20 km with the ASF team. There was a lot of sweat and aching muscles, but there was a real spirit of togetherness throughout the race, providing plenty of motivation, aside from that of running (or walking) to defend the rights of men and women!"
Once they had received their medals, the participants and their families were invited for a barbecue in the ASF garden. Just the thing for them to recharge and spend some informal time among friends. Mr Mourato said, "I also greatly enjoyed the barbecue that had been organised, which finished off the event in a convivial atmosphere."
A huge thank you to everyone involved! See you next year?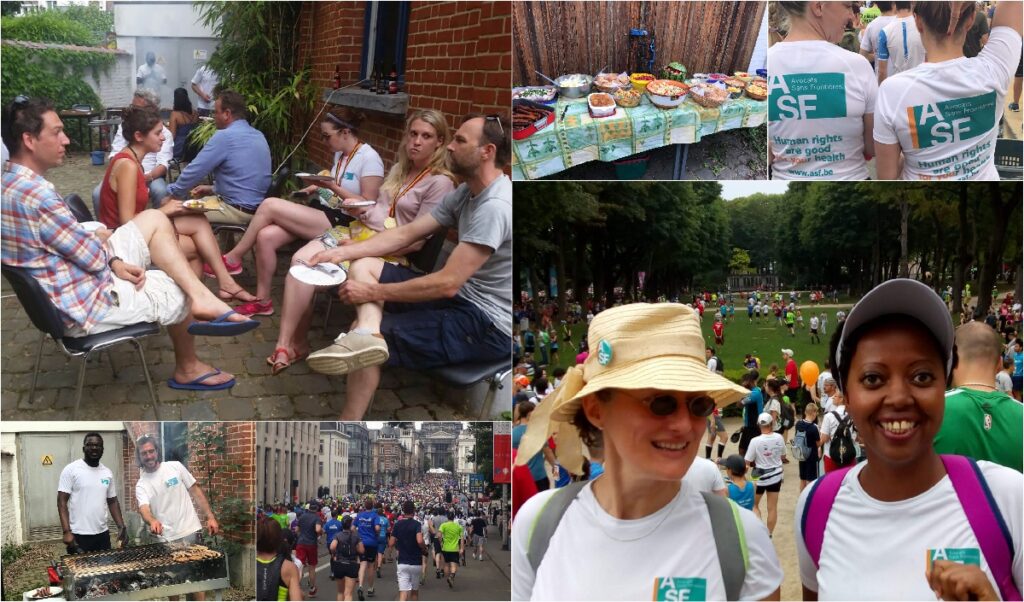 Pictures © ASF/Séverine Degée, Marianne Demorcy, Camille Lefèvre, Charlotte St Mart, Chantal van Cutsem