18 December 2017
Brussels, 18 December 2017 – At the Sixteenth Session of the Assembly of States Parties to the Rome Statute, ASF and REDRESS co-organised a parallel event on the legal representation of victims before the International Criminal Court (ICC), the International Crimes Division (ICD) in Uganda, and the Special Criminal Court (SCC) in the Central African Republic (CAR).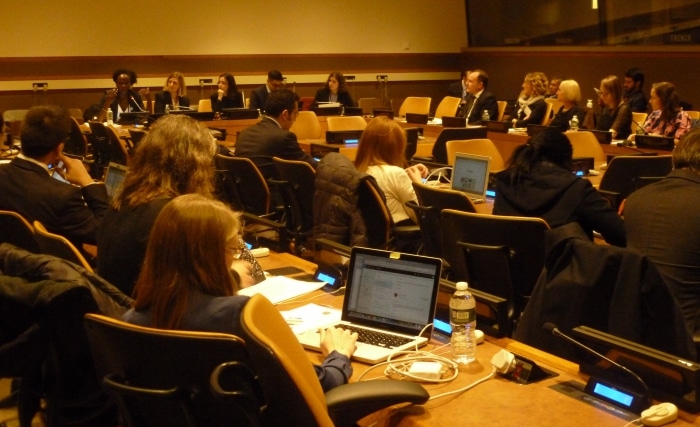 This event was an opportunity to take stock of practices relating to representation for victims in criminal procedures involving serious crimes. Victim participation constitutes one of the greatest advances in international criminal law, the catalyst for which was undoubtedly the Rome Statute. Its provisions on the subject have since influenced many hybrid and domestic jurisdictions, established or mandated to pursue international crimes. Victim participation was thus recently introduced before the ICD in Uganda, where the common law system limits victim participation in criminal matters to a victim impact statement.
However, the participation of victims is not uncomplicated in practice, for example, when it comes to their representation by a lawyer. The ICC constantly employs joint legal representation of victims, which was made possible by the Rome Statute. The Ongwen case in Uganda, however, revealed the limits of the approach adopted by the organs of the court, when legal aid was initially refused to victims who had chosen Ugandan representation (more than 2,600, currently), the court favouring instead the Office of Public Counsel for Victims.
The difficulties encountered by victims before the ICC can provide lessons for developing the regulatory frameworks of other jurisdictions, such as the SCC in CAR, whose draft Rules of Procedure and Evidence also provide for the possibility of joint legal representation. However, the composition of the SCC's special body of lawyers, which will provide representation for the accused as well as for victims, raises numerous questions, starting with the balance between national and international lawyers and the conditions for legal aid. Data collected by ASF in the field reveals many issues of representation faced by these lawyers, in a context that is marked by severe ethnic tensions, which will no doubt be at the heart of the SCC's work. It is therefore crucial that the SCC take these issues into account in the development of its activities, to be better able to overcome them and thereby contribute to strengthening the legal system as a whole.
While the victims of international crimes can be limited in their choice of representation for logistical and financial reasons, legal representation ultimately requires a relationship based on trust and transparency between lawyer and client. This relationship is key to seeking justice, the ultimate aim of which should be the delivery of reparations that are appropriate to the damage sustained, based on the wishes and expectations of victims.
The parallel event received support from the governments of the United Kingdom and Finland and was organised with the help of the Victims' Rights Working Group.