7 June 2016
Brussels, 7 June 2016 – ASF was represented at the annual sporting and family event organised by the Order of Flemish Bars (OVB) last weekend in Tervuren, on the outskirts of the Belgian capital. Named Advocatenrun, the seventh edition brought together over 600 participants who, through OVB, have been supporting the work of ASF for several years.
OVB represents over 10,000 Flemish lawyers. Last Sunday, the ASF team took part in the Advocatenrun, staged in the magnificent Tervuren Park, under timid but eventually bright sunshine. This year, more than 600 people signed up for the day's activities, which included a bike ride, a visit to the Museum of Central Africa (currently being renovated), various running races for children and adults, and much more other activities.
ASF took the opportunity to organise a fun and symbolic awareness-raising activity. Participants were invited to write down a wish they have for human rights. The cards were then attached to balloons to be released at the end of the day.
"Our initiative was very well received, even though people came first and foremost to spend a relaxing afternoon with their family or colleagues. More than one in ten took part in our activity. I noticed that the children were particularly interested in sending out a message related to human rights. I think that shows a real awareness of the issue", said Séverine Degée, Head of Communications at ASF.
Among the many messages written by participants, some of those which stood out were "I want all children to be able to go to school, even if they are poor", "Everyone has rights, but the key is to ensure they are enforced", or "Equal rights for women".
Unfortunately, we were not able to release the balloons at the end of the day because of a heavy storm, but it is highly likely that we will repeat the activity in 2017, on the occasion of the organisation's 25th anniversary. "We would like to thank everyone who took part in the Advocatenrun because for every person who signed up, OVB will donate €2 to ASF", Séverine Degée pointed out. ASF would also like to thank OVB's enthusiastic team for promoting the activity.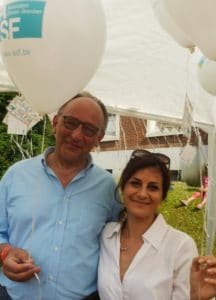 "We would particularly like to thank OVB President, Dominique Matthijs", said Francesca Boniotti, Director General of ASF. "As well as yesterday's event, OVB makes an annual donation of €35,000 to ASF. This support is crucial for our organisation since budgets allocated to cooperation and development continue to shrink year after year. This is despite the fact that the need to promote human rights is more urgent than ever".
Photo: ASF campaign – "Send your wishes in favour of human rights", Tervuren (Belgium), June 2016 © ASF – G. Van Moortel
Small photo: Dominique Matthijs, OVB President (left) and Francesca Boniotti, ASF Director General (right), Tervuren (Belgium), June 2016 © ASF – G. Van Moortel