Brussels/Bukavu/Kathmandu, 26 June 2012 – On the occasion of the International Day in Support of Victims of Torture on 26 June, Avocats Sans Frontières (ASF) reiterates the need to ensure torturers do not escape punishment.
[...]
---
---
15 June 2012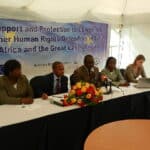 Nairobi, Kenya – Lawyers and other human rights defenders (HRDs) are often directly targeted when they speak out against local authorities who are at times responsible for human rights violations.
[...]
---
---
7 June 2012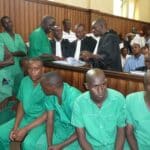 Bujumbura/Brussels, June 7th, 2012- Avocats Sans Frontières (ASF) believes that the verdict announced 22May does not reflect the whole truth surrounding the murder of Ernest Manirumva, Vice President of the Burundian civil society group, Anti-corruption and Economic Malpractice Observatory (Observatoire de Lutte contre la Corruption et les Malversations Économiques [OLUCOME]).
[...]
---
---
---
---