Avocats Sans Frontières is an international NGO specialised in defending human rights and supporting justice.
---
8 Feb 2016
In DR Congo, defending the rights of victims of injustice and exercising one's fundamental freedoms remains a challenge. Faced with an often failing legal system and, at times, intimidation, men and women still pursue an ideal: to live in a fairer world. First of three interviews: Alphonse Koyakosi, lawyer specialised in international crimes.
Continue reading
News
28 Jan 2016
Tunis – Confronted with the rapid deterioration of the situation in Kasserine and in other marginalised regions of Tunisia, ASF and the Tunisia Forum for Economic and Social Rights have called on the Truth and Dignity Commission (IVD) to step in: to address the causes of social injustice. For both partners, the IVD should address publicly and as promptly as possible the issue of "region as victim" status in Tunisia.
Continue reading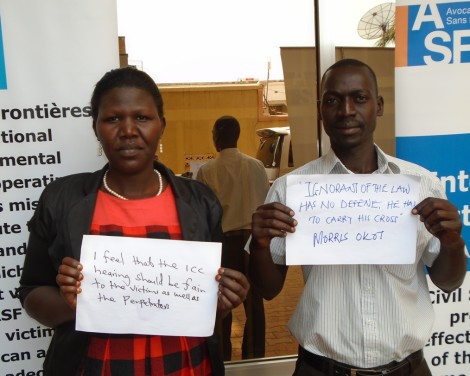 21 Jan 2016
Kampala, Uganda – ASF welcomes the confirmation of charges concerning Dominic Ongwen, a commander of the Lord's Resistance Army rebel group, being held before the International Criminal Court today. As a victim-centered organization, ASF believes that this is the first step towards justice for the many victims of one of the longest conflicts in Uganda. ASF hopes that justice will be served, those accountable punished and that victims are able to receive redress and reparation.
Continue reading
ASF in the field